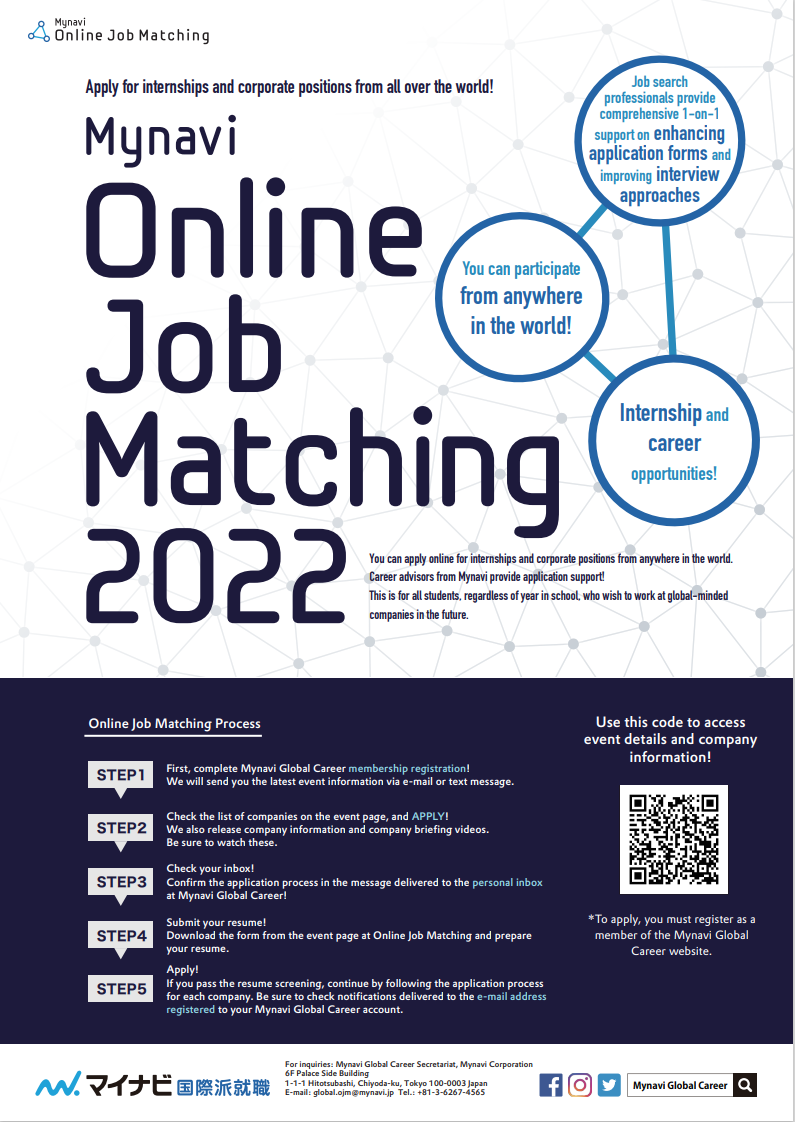 Mynavi Global Career Japan
Online Job Matching 2022
Are you interested in working in Japan after you graduate? Mynavi Global Career Japan has launched their Online Job Matching Service to provide job hunting support to Japanese students studying outside Japan (as well as non-Japanese students with advanced Japanese language skills).
Employers (located in Japan) that have overseas posting or business trips are participating.

Many jobs that require English or other languages are listed.

MYNAVI Global Career-dedicated advisors help you improve your resume and practice interviews.

You can apply for a job from where you are studying.

Jobs that start between April 2023 and April 2024 are listed now!
Eligibility:
* Students or bilingual people who wish to obtain a full-time job in Japan
* People who have already obtained a degree: Within 3 years after graduation
* People with full-time employment experience: Within 3 years after resigning
Participating employers include:
Amazon Japan G.K., MITSUI CHEMICALS, Inc., Dentsu Digital Inc., CJ FOODS JAPAN Corp., VECTOR INC., BIG DAISHOWA Group, The Master Trust Bank of Japan, Ltd., AXA Life Insurance Co, Ltd., and Koki Holdings Co., Ltd.
More information: https://ojm.global.mynavi.jp/2022_ss/?utm_source=m...
This service includes online Individual Consultations!
Mynavi's dedicated career supporters will directly assist you via LINE application about your job hunting, how to balance your studying and job hunting activities, and employer selection.
Please note, these consultations are in Japanese language only.
How to use this service:
1. Add through the following URL or search "Mynavi Global Career" using a search window after clicking the LINE's top page.
* When searching, change the setting from "All" to "Official Accounts" under the search window.
2. When the account is displayed, click "add friend".
3. You will receive a message. Follow the message and reply to us once (individual consultation will not become available if you do not reply to us).
LINE Official Account (job hunting consultation desk): https://lin.ee/zbhyppQ
For more information, please email Mynavi Global Career at: global.aus@mynavi.jp
Mynavi website: https://global.mynavi.jp/